LATEST

TECHNOLOGY

GUARANTEED

WORK

AFFORDABLE

PRICES

FRIENDLY &

TIDY

For your wooden floors in ESSEX
The only way is with the Essex Floor Repairing Masters!
            Damaged, shabby floors?
We'll repair, sand, stain and seal them to perfection.
           Fear of dust and mess?
Not with our machines - 99% dustfree sanding.
         Solid boards or parquet blocks?
Restoring every kind of surface for over twenty years.
         So don't delay.   Call us now for your free assessment.
A friendly, reliable firm waiting to give you the best advice and treatment for your floors.
              The Essex Floor Varnishing Specialists.     
TRUSTED BY THESE WELL KNOWN BRANDS AND HUNDREDS MORE
Poor Essex. The worst press for its flat fields, foggy marshes and urban overspill.  
What a slur! There is still plenty of unspoilt rural pleasure to be found in its heartland.
Try the little known Roding valley just beyond the once eastern limit of the London underground at Ongar.  
Heading north from the town, you pass nine Roding (or Roothing) villages; 
small and charming, with thatched cottages, medieval churches and welcoming pubs.   
The names alone are a delight: Abbess, Aythorp, Berners, Beauchamp, High, Leaden, Margaret and White. 
Just off this main road is High Laver by whose church porch lies the tomb of the great 17th century philosopher, John Locke, 
author of the 'Essay concerning Human Understanding'.  
The words of the Latin inscription on the wall were written by the man himself.
Head on to Little Dunmow, whose pub 'The Flitch of Bacon' is a reminder of a medieval custom.  A couple who had not repented
of their marriage after a year and a day were awarded the aforementioned flitch i.e. side of bacon. 
They were allowed to sit in the 
Flitch chair, which can be seen inside the church.
The ceremony was revived in Victorian times and now takes place every leap year in the town hall of neighbouring 
Great Dunmow, where couples undergo some serious questioning.
For an experience not to be missed, go south west to the church at Great Canfield.  Its early 13th century painting of Madonna and Child is unmatched for sensitivity and beauty.  This splendid treasure - and survivor - shows what surprises can be found in even the humblest parish church.   
Latest News, Recommended Articles & Tips
5 cool and creative finishes for your sanded wooden floors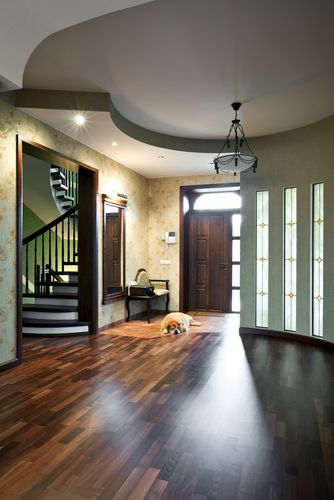 Wood floor sanding is a simple way to bring new life to old floorboards. And sanding and varnishing wooden floors are often as far as most people want to go. But once you've revealed the beauty of old wooden flooring, there are some cool and creative ways to put your own stamp on them with an original finish.
1. Lime washing - fresh and contemporary
From weathered and bleached shabby chic to the cool and contemporary styling of a grey washed finish, this is a simple and effective way to breathe new life into your decor after DIY floor sanding. Simply use a diluted paint to really highlight the newly exposed grain.
2. Dark and dramatic
If you prefer a more rich and sophisticated finish, then opt for a deep, dark stain or go black if you dare. In fact, black complements every tone and colour and can really make a room pop. If you want to transform an ordinary room into something extraordinary, then style it with a black floor.
3. Paint a pattern
If you want a grand and unique finish, then follow the lead of the great French chateaux and paint a trompe l'oeil rug or chequerboard pattern over your newly sanded floor. If you're artistic, then this is a great way to really put your stamp on a room, but a simple chequerboard can look absolutely stunning and can be achieved simply with masking tape. And if you don't like it you can sand it down and try something new.
4. Bright and boho
If you want to paint your floor bright tangerine or aquamarine, then go ahead. The right colour in the right room can look amazing and really personalises your decor. Try painting different planks in different colours for a modern and vibrant style, or stencilling a border or some word art around the room. Seal with the right varnish and you'll preserve your handiwork for years.
5. Bare and beautiful
Of course, you don't have to add a special finish to your floorboards at all. After
sanding wooden floorboards, sometimes the most appropriate finish for a timeless decor is simply to oil or varnish them and let the natural beauty of the wood shine.
If you'd like beautifully sanded wood floors but don't want the hassle of doing it yourself, why not call in the professionals? Contact us today at the Wood Floor Restoration Co.